Target retirement date strategies should be driven by an asset allocation process that can adapt to changing market conditions. They should incorporate global and inflationary hedge asset classes to ensure proper diversification. Cost-effective implementation is key to our retirement date solution, and as such, we utilize a collective fund of funds structure.


Northern Trust offers the following target retirement date solutions to plan sponsors:
Northern Trust Focus Funds™. Each Northern Trust Focus Fund includes a diverse mix of investments in stocks, bonds and cash, as well as a selection of securities specifically chosen to reduce the corrosive effect that inflation can have on defined contribution plan assets over time.


Custom Target Retirement Date Solutions: Northern Trust offers a diversified menu of investment choices designed to minimize risk exposure and increase the chance of successful retirement.
Asset Allocation Framework*

Our asset allocation framework considers asset classes that are globally diversified, incorporating inflationary hedge asset classes in addition to a core allocation to stocks and bonds.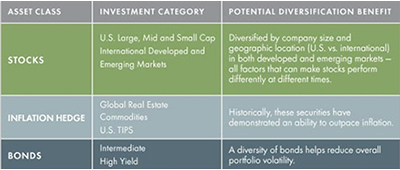 * Subject to change
A more aggressive allocation is held initially as the glidepath targets growth in participants' early years, when compounding is critical to wealth accumulation.
The roll down occurs linearly over a 35-year period to the income allocation, ten years into retirement at age 75.
Fixed income is included at every stage of our glidepath, fully embracing QDIA guidelines for diversification.
A Shared Vision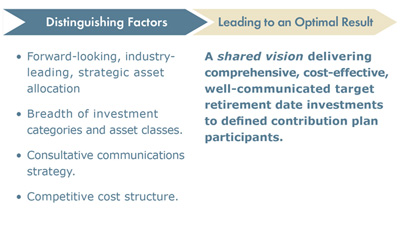 Investment Products and Services are:

Investment products and services are offered through Northern Trust Securities, Inc., member
FINRA
and
SIPC
and a wholly owned subsidiary of Northern Trust Corporation. Any attached research reports containing the Northern Trust Logo or trademark were prepared solely by employees of Northern Trust Investments, Inc., an affiliate of Northern Trust Securities, Inc.
Read our
Business Continuity Notice
© 2013 Northern Trust Corporation